Why combine chiropractic care with acupuncture?
You may know that Back & Neck Care Chiropractic & Sports Massage offers acupuncture treatments, but do you know why we do this? Acupuncture can help speed the healing prompted by chiropractic adjustments. Read on to learn more about why this is so.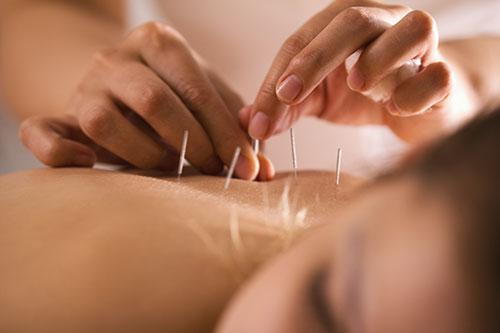 How Acupuncture Helps Chiropractic Healing
Even though these two treatment modalities are very different in origin and history, they are both gentle, non-invasive, and do not require the use of drugs. Both of these therapies can help promote whole-body healing while targeting a specific injury in the body. 
The process of acupuncture promotes the release of endorphins and the flow of blood in the body. If you have acupuncture before your chiropractic adjustment, your muscles may be more relaxed and less stiff than if you did not have acupuncture. As a result, our chiropractic adjustments are easier to make and will last longer. Over time this means that you can get better faster, and experience less pain and inflammation while you are healing. 
If you still experience chronic pain in between chiropractic treatments, acupuncture can reduce pain levels in a healthy and natural way. This can help you feel better and have more energy in between our adjustments. 
What is Acupuncture?
Acupuncture works on the energy flowing through the body's meridians. As this energy, or qi, becomes stagnant, it can cause pain in the body. By applying very thin needles to points along the body's meridians, an acupuncturist can push stuck energy and restore wellness. Needles typically remain in place for a half-hour. During an acupuncture treatment, many patients report feeling calm. 
Acupuncture can help treat anything from allergies or arthritis to chronic low back pain or a seasonal cold. Many of our patients report feeling nervous about the use of needles at first, but quickly relax once they see how tiny the needles are and learn that the acupuncture needles do not hurt going in. 
Have you or would you try acupuncture treatments in addition to chiropractic? Contact our Vancouver, WA chiropractor on staff at 360-253-6614 to learn more or to schedule an appointment.